Top 5 Dog Cooling Mats to Beat the Summer Heat

By Ashley Turner     Last Updated January 25, 2022

We independently research and recommend the best products; Learn more here. We may receive commissions on purchases made from our product recommendations.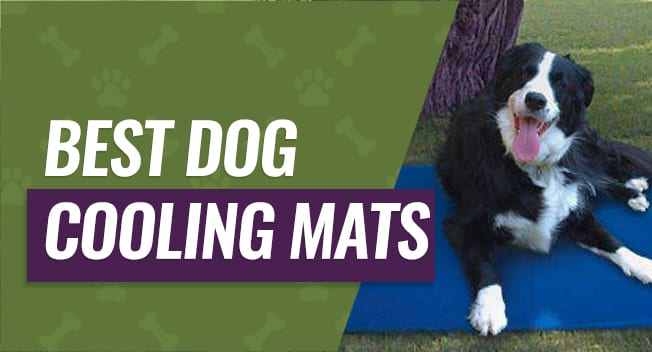 panting
.
A dog cooling mat can be instrumental in helping your furry friend beat the heat during the summer months. We're going to give you a comprehensive buying guide along with five cooling mat reviews so you can quickly and easily compare them and choose the mat that is best suited for your dog's needs.
Our Top Picks for the Best Cooling Pads for Dogs
4 Types of Cooling Mats for Dogs
This cooling mat is designed to lay flat on the floor and help cool your dog's core temperature to their regular 101 to 102.5 degrees Fahrenheit as they lay on it. Currently, there are four different types of cooling mats or pads available for pet parents to buy.
1. Gel Mats
Gel-type mats are the more popular type of cooling pad to buy among dog parents because they're flexible, portable, and very low maintenance. They're very similar to the kid's anti-fever patches in appearance and use, and they're very durable and resistant to tearing or punctures.
2. Water Mats
A water mat cooling pad looks and feels just like a miniature waterbed that you would sleep on, and they're also more prone to punctures or tears. You fill it with cool water, and your dog lays on it to allow the cold from the water to transfer from the mat to their bodies.
3. Memory Foam
Memory foam cooling pads are excellent for older dogs because it molds to your dog's body shape and takes the pressure off of their joints and bones. The microgel beads allow this type of bed to stay cooler for longer periods, and they'll automatically cool once your dog gets up.
4. Elevated
An elevated bed is great for dogs that live outside because it allows for air circulation around and under your dog when they lay on it. It has a cooling layer built right into the framework that can provide additional relief to your dog if they've been running around in the sun.
How Do Dog Cooling Mats Work?
You have to have a basic understanding on how thermal energy transfers from one point to the other to fully be able to appreciate cooling dog mats. There are two main transfer methods that happen between your dog and the cooling mat.
Conducting Thermal Energy
Conduction simply refers to the transfer of heat from a higher temperature down to a lower temperature. When you hold a glass of cold water, heat from your body conducts from your hand to the glass until the water, and your hand is the same temperature.
Heat escapes from your dog's body when they lay on the cooling mats into the mat until both the mat and the dog are the same temperature. This is an effective tool to cool them off without dropping their body temperatures too much.
Thermal Radiation
Thermal radiation happens when the cooling mat and your dog's body reach the same temperature. The heat will have nowhere to go, and it'll start to radiate outwards into the surrounding air or into the floor.
Your dog will eventually get up because the mat isn't cool enough to work effectively anymore. When they do this, the pad will start pulling cool air back in from the floor, and it will recharge or return to a cool state, so it's ready for your dog to use again.
Tips to Get the Most Out of Your Dog's Cooling Mat
You want to get the most out of the cooling mat that you buy for your dog. These simple and quick tips help to ensure that your dog has somewhere cool and comfortable to lay during those hot summer days.
Put the gel-style mats into the freezer for 10 to 20 minutes to drop the temperature.
Place the mat in a shaded area, so the sun doesn't cause it to heat quicker.
Laying the mat on concrete or a hard floor can help to draw heat away from the mat.
Shave or clip your dog's coat short during the summer months so they feel the mat faster.
Ensure that you get the correct mat to suit your dog's needs.
What to Look for in a Dog Cooling Pad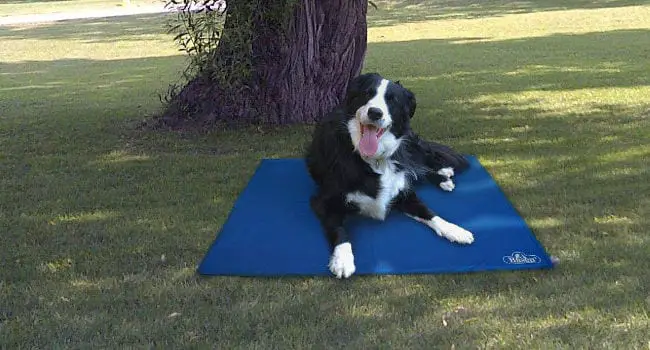 There are several important components that go into making sure that you get the best cooling mat for your dog's needs. This may take a little research, but it's worth it.
Cooling Longevity and Power
The best cooling mats for dogs typically stay between 15 and 20 degrees cooler than the temperatures surrounding it. This means that if the current temperature is 80 degrees Fahrenheit, the cooling pad should be between 60 to 65 degrees Fahrenheit at all times.
The mat should also stay cool for a longer period of time, even with your dog laying on it. You can extend the cooling time by laying it directly on a hard floor like tile, laminate, hardwood, or even concrete, so it pulls these cooler temperatures up into the mat.
Durability
Your dog could have negative health consequences if they start to chew up their cooling mat, even if it is supposed to be non-toxic. Never leave your dog unattended on their mat if they have a tendency to chew or if they're younger.
Your cooling mat has to be made out of materials that are durable enough to withstand your dog's claws as they walk or turn around on it. This is especially important if you buy a water cooling mat because even a smaller hole can lead to a huge mess all over your floors.
Maintenance
You don't want to spend a lot of time cleaning and maintaining your dog's cooling mat if you can help it. Look for one that is waterproof because this allows you to quickly and easily wipe it clean with a damp rag or give it a quick spray and let it dry.
If you get a water cooling mat, you want to periodically dump the water out and make sure that it isn't slimy on the inside. This can be slightly more time-consuming, but it's essential to help ensure that your cooling mat lasts a long time.
Portability
You'll want to make sure that your cooling mat is very easy to pack up and take with you if you plan to travel with it. Gel cooling mats can typically fold up to a very compact and portable size that slides right alongside your other luggage.
Water filled cooling mats can also fold up or lay flat for easy portability, but you have to release the water first and refill it every time you want to use it. This can make it slightly more time-consuming and frustrating to take with you.
Radiation Time
Ideally, any cooling mat that you choose should return to the normal cooler temperatures in under an hour because this helps to ensure that your dog can use it whenever they need it. The surrounding environment along with the flooring type that the mat is on will play a role in the total radiation time.
Some cooling mats can go back to their cool state in under 10 minutes while others can take between 20 and 30 minutes. You have to consider how your dog handles the heat and how hard they play as well.
Size
The goal of using a cooling mat is to get as much of your dog in contact with it at one time to maximize the cooling effect. If it's possible, you want the cooling mat to be larger than your dog is so that they can comfortably stretch out and still stay in contact with the mat.
Also, having a larger cooling mat will give your dog room to move around to the areas they're laying on get warm from their body heat. You may even want to consider buying a few sizes up to ensure that your dog has enough room.
Our Top 5 Picks for the Best Cooling Pads for Dogs
1. Hugs Pet Products Chillz Pet Cooling Gel Pad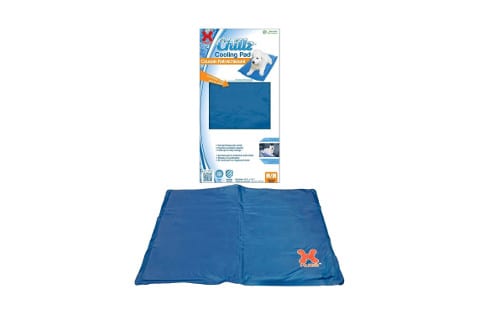 This cooling pad comes in three sizes ranging from medium to extra large, and it contains pressure activated cooling gel technology. It automatically cools using the surrounding air when you pet gets up and leaves it lay.
You don't need any freezing for this pad to feel cold to the touch, and it features durable material that is resistant to wear and tear or punctures due to claws. It contains a non-toxic gel that is safe for both pets and humans if the pad tears or breaks.
Pet parents who purchased this product liked the fact that it folds up extremely flat for easy storage and portability as well as the non-toxic gel. They didn't like that this cooling pad's gel seemed to bunch up in specific areas and it was difficult to get it back to the original spot.
Things We Liked
Contains a non-toxic gel
Folds very flat for easy storage
Made with durable puncture-resistant material
Things We Didn't Like
Gel tends to bunch up
May have durability issues at the seams
Can be difficult to get customer support
2. The Green Pet Shop Dog Cooling Pad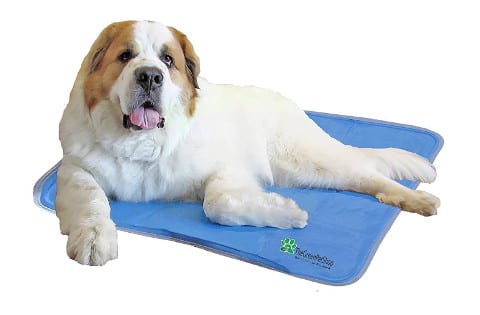 This cooling pad starts in a size small and it goes up to extra large so even bigger dogs can have enough room to move around and stretch out. This pad comes with pressure activated gel that starts to cool as soon as your dog steps or lays on it.
It folds up to a very compact size that makes it easy to pack it with you when you travel or fold it up for storage. This pad also has a waterproof casing so you can wipe it clean with a damp cloth and use it again right away.
Pet parents who bought this cooling pad liked that it was very easy to maintain, store, carry, and clean without any problems. They also liked that it automatically recharges when their dog gets off of it. They didn't like that it only seemed to cool for 15 to 30 minutes at a time.
Things We Liked
Easy to clean and maintain
Features pressure activated gel
Folds up to compact size
Things We Didn't Like
May only stay cold for 15 to 30 minutes
Fabric cover is prone to tearing
Price - more expensive option
3. AKC Cooling Mats for Dogs & Cats
The American Kennel Club cooling pad comes in three different sizes and 19 different color and pattern combinations so you can customize it. It features a water and dirt repellent coating so you can use it outside and inside without a problem.
It has cooling gel inserts in eight different pockets that allow your dog to move around and stay cool throughout the day. It folds up very flat and compact when you're not using it, and it stores in a very small area.
People who purchased this cooling mat for their dogs liked that it came in several different color and style options including a reversible design with a solid color on one side. They didn't like that the pads seemed to run slightly smaller in size and that the material that covers the pad was very thin.
Things We Liked
Can get several different patterns and colors
Features a reversible design
Works for one to two hours
Things We Didn't Like
Material seems to fray and be very thin
Pad sizes can run small
Can't withstand digging or chewing
4. Arf Pets Self Cooling Mat for Dogs
This automatic recharging pad comes in three different size options and it can keep your dog cool for up to three hours at a time between charges. It is made out of a non-toxic material that is completely latex-free and flexible.
It is designed to fold flat, so you can quickly and easily store it or take it with you without any problems. You also get a cooling mat that you can quickly and easily wipe clean and reuse for years and years.
Pet parents liked that this cooling mat was made out of highly durable gel that was solid and capable of keeping its shape. They didn't like that the cooling mat was extremely thin and it didn't give their dogs very much cushion when they laid on it.
Things We Liked
Can get up to three hours on a single charge
Made out of a non-toxic gel
Folds and stores flat
Things We Didn't Like
Very thin with minimal cushion
Has a slippery surface
May not stand up to wear and tear well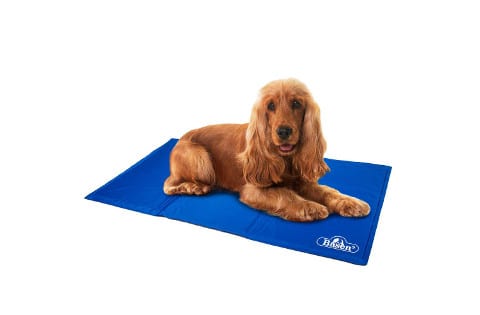 This bright cooling mat comes in a large and extra large size that makes it a great choice for all dog sizes. It is a full of a cooling gel that is wrapped in a waterproof fabric that's easy to clean and maintain.
It cools very rapidly in around 15 to 20 minutes, and this cooling pad gives your dog up to three hours of cool on a single charge. It's a great addition to any pet home, including kennels, play areas, patios, and more.
Pet parents who purchased this cooling mat liked how easy it was to keep clean because of the waterproof surface, and they liked the durable design. They didn't like that this mat was more difficult to hold onto and carry around because it's covered in a slippery fabric.
Things We Liked
Comes in a few larger sizes
Has a waterproof cover
Charges in 10 to 15 minutes
Things We Didn't Like
Slippery fabric can make it hard for your dog to sit on
Tends to rip or tear on the seams
Sizes can run small
What's the Best Dog Cooling Mat?
Our pick for the best dog cooling mat is the Hugs Pet Products Chillz Pressure Activated Pet Cooling Gel Pad because it comes in several different sizes. It also contains pressure activated gel that cools very fast when your dog steps or lays on it.
It comes with a non-toxic gel that is wrapped in a durable material that is resistant to wear and tear. Finally, it folds up extremely flat, and it also gives a few hours of cooling time per charge.