Top 5 Best Carpet Cleaner Machines for Pet and Urine Stains with Reviews

By Ashley Turner     Last Updated January 25, 2022

We independently research and recommend the best products; Learn more here. We may receive commissions on purchases made from our product recommendations.
Since there are dozens of shampooers available, it can be hard to narrow your search down to the best one for your needs. This is why we rounded up five and provided short reviews, but we're also going to give you a buyer's guide that'll tell you exactly what you need to keep an eye on when you shop.
Our Top Picks for the Best Carpet Cleaners
Types of Carpet Cleaning Machines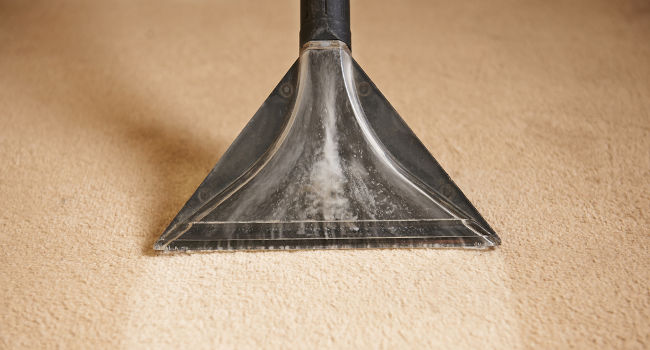 Before you do anything, you want to decide which type of carpet cleaner you want because this can narrow your choice down right out of the gate. The three most common types of carpet cleaners are:
Full - A full-size carpet cleaners are heavy and bulky because they come equipped to work with more powerful motors to cover larger areas. They're excellent for big houses or people who have a lot of pets and stains because they get very deep into the carpeting each time you use them.
Compact - A compact cleaner is like the scaled-back version of a full-size cleaner because it's easier to maneuver, more lightweight, and smaller. They're not as powerful as the bigger cleaners, but they do a good job on smaller areas and different pet stains.
Spot - The final category of cleaner is a spot cleaner, and this is an extremely compact cleaner that you sit directly over any spots your pet leaves and let it run. It's not suitable for doing large areas, but many of them allow you to turn it on and walk away while it cleans for you.
Important Features in Your Carpet Cleaner
Once you settle on a type of carpet cleaner, you can start comparing them based on several different must-have features. The carpet cleaner with the most features is usually the best one to go with because it can help you remove the most stains and clean more than just your flooring.
Brushes
Make sure you take a good look at the brush system on your carpet scrubber because this is what is going to work on the stains and help to draw the dirt and debris out. Ideally, your scrubber should have several rows of brushes that work in tandem to get down deep into your carpet and pull the most ground-in stains out.
Capacity
Remember to look at what your water tank's capacity is because this will play a key role in how many trips you have to take to add clean water and dump dirty water. A larger tank is better for bigger areas while a smaller tank works best for smaller carpeted areas or spot cleaning.
Ease of Cleaning
You'll have to clean the pet hair, sand, mud, debris, and dirty water out of your scrubber sooner or later, and it should be an easy task to do so. Make sure your scrubber doesn't have a lot of little nooks and crannies that are impossible to get to because this is where hair will build up.
Heated Dry
The last thing you want when you finish cleaning your carpets is for them to be still wet enough to pick up debris and dirt every time someone walks on it. Look for a scrubber that has a heated dry mode that gently dries your carpets when it extracts the water to leave them ready to walk on as soon as you finish.
Hoses
Most carpet cleaners come with at least one hose attachment that allows you to clean your stairs and upholstery, but you want to make sure you get longer hoses. These longer hoses will reduce the hassle that comes with moving your scrubber around because your hose is too short to reach anywhere.
Maneuverability
The larger your carpet scrubber is, the more difficult it is to maneuver around your furniture or other items while you clean. If you have a lot of small spaces, it may be worth it to pick out a compact rug scrubber that has a high degree of maneuverability to cut down on the frustration levels.
Pet Hair Remover
Make sure that your scrubber is specially designed to remove pet hair from your carpeting and furniture because not all scrubbers do. They usually have slightly longer bristles that dig down into your carpet and snag the pet hair before bringing it back up into the machine.
Powerful Motor
The more powerful your carpet cleaner's motor is, the more effective it is going to be at scrubbing stains and extracting the water back out of your carpet when you finish scrubbing. If you have thicker carpets in your home, go for a scrubber with a larger motor because smaller ones aren't going to be able to get through all of your carpet layers.
Warranty
Even if you don't plan to use your scrubber a lot, having a warranty in place can help you get a replacement if something should go wrong. You should get at least a year warranty if not more to protect your investment and ensure that you have a working carpet cleaner for years to come.
Our Top Five Picks for the Best Carpet Cleaner for Pet Stains
1. Hoover Power Scrub Deluxe Carpet Washer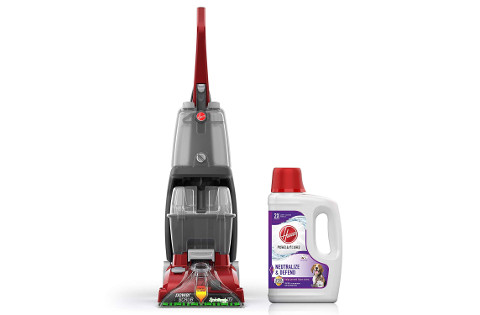 You'll get a SpinScrub Brush System with this scrubber that helps you get out toughest stains and ground-in dirt as well as pet messes. The dual V nozzle on this scrubber cleans every surface of your home with equal suction to get an even clean each time you use it.
The included Heat Force setting helps to dry your carpets right after you clean them while it lifts up stubborn stains and removes dirt. Since this scrubber weighs less than 20 pounds, it's lightweight enough to carry up the stairs and around your home without a problem.
You'll also get an upholstery tool and a crevice tool that helps you clean all of your drapes, stairs, couches, chairs, and hard to reach places to remove pet hair, dirt, and other debris. Finally, you get a full three-year warranty against damage or defects that makes it quick and easy to return this scrubber if you need to for a new one.
Pet parents who bought this scrubber were happy that it came with so many extras like the crevice tool and the upholstery tool so they could get an even clean. Pet parents did mention that the drying feature would set the stains into the carpet if you weren't sure they were completely gone.
Things We Liked
Features several handy cleaning tools
Has a very lightweight design
Can dry the carpets as soon as you finish with them
Things We Didn't Like
May dry the carpet and set the stains in
Can be difficult to remove the water tank
Might have to make multiple trips for larger areas
2. Bissell SpotBot Pet Handsfree Spot and Stain Cleaner
This pet stain cleaner comes designed to be hands-free, and you simple put the detergent in, set it over the stain, switch it on, and let it go for the set amount of time. It sprays, scrubs, and suctions with deep reach technology that allows it to clean and lift even stains that have been ground in.
It works well on carpets, upholstery, stairs, cars, and rugs with low piling to give you 400 cleaning revolutions per cycle that work on both old and new stains. You get a shorter hose that works well for getting into cracks and crevices like on stairs, and it also has a small brush cleaning tool attached to it.
This small and lightweight cleaner is very easy to pick up and carry from location to location, and it has a solid handle built right into the top of the machine. Bissel will donate up to $10 for every cleaner they sell, and they donate it to shelters around the United States.
People who bought this cleaner for their pet stains liked that it was so small, lightweight, and compact because that made storage easy. They didn't like that it could take multiple scrubbing cycles to get rid of stains.
Things We Liked
Gives up to 400 cleaning revolutions per cycle
Designed to set it and walk away
Very lightweight and compact
Things We Didn't Like
Does not work well with larger areas
May take more than one cycle to lift the stain
Has a very short hose attachment
3. Hoover PowerDash Pet Carpet Cleaner
This lightweight pet stain cleaner gives you two times more cleaning power each time you use it than other lightweight cleaners, and this is excellent for tackling those ground-in pet stains and dirt that leaves your carpet looking dingy. It comes with a PowerSpin Pet Brush Roll that gives you both a powerful clean and antimicrobial protection.
The lightweight design makes this scrubber very easy to move between floors or from area to area, and it has HeatForce power that works to leave your carpets almost dry when you finish scrubbing them. It has a more narrow design that lets you get into a variety of spaces like between furniture and in smaller areas without a problem.
You'll get a dual tank system that makes it easy to add your cleaner and your water each time you fill it up, and the clear tank design lets you see when you're running low on clean water. The cord is 20 feet long, and this gives you a lot of freedom of movement to do larger areas when you run it.
Pet parents who bought this scrubber liked that it came with a thinner design that let them get into both large and small areas without having to move a lot of furniture or items. Pet parents did mention that the water tank is only half of a gallon, and this makes it challenging to clean large areas.
Things We Liked
Has a narrow and slender design
Comes with a dual water tank
HeatForce power dries the carpets as you scrub
Things We Didn't Like
Comes with a smaller water tank
Have to remove belt and rollers to clean it
Dirt and hair can get trapped in plastic parts
4. BISSELL ProHeat 2X Revolution Max Clean Pet Pro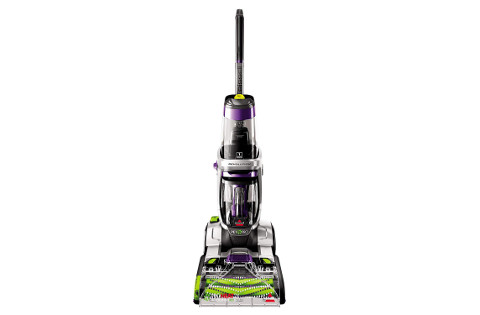 You'll get a max clean mode with this scubber that attacks your carpet with 12 rows of rotating power brushes gets deep into the layers of your carpet for a deep and lasting clean that you can see and feel. There is also an express clean mode that gives you completely dry carpets in as little as 30 minutes.
This scrubber comes designed to remove both large and small stains in as little as 30 seconds, but you can do multiple passes over one area to ensure you get all of the stains out before you dry it. Additionally, this scrubber also works to remove pet odors from the stained area, and this can prevent your pet from going there again.
Every time you buy this product, Bissell donates $10 to various non-profits and animal shelters around the United States to help with the costs of running said shelters. You'll get a larger storage tank for your water that lets you clean larger carpeted areas without having to refill the tank constantly.
Pet parents who bought this rug scrubber liked that every stain got 12 rows of brushes to get deep into the stain and lift it out of the carpet. Pet parents did say that this was a slightly bulkier and more heavy machine to try an maneuver.
Things We Liked
Comes with 12 rows of brushes
Has an express cleaning mode for quick drying
Bissell donates money with every purchase
Things We Didn't Like
Slightly heavier and bulkier
Can be difficult to clean
Trigger is harder to pull
5. Rug Doctor Mighty Pro X3 Pet Pack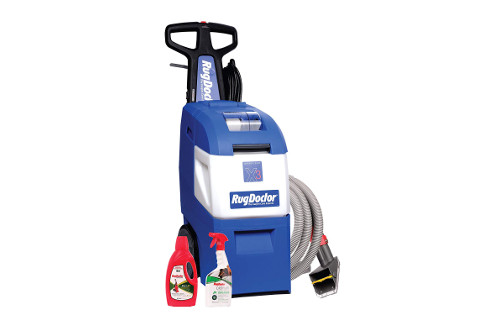 Rug Doctor gives you professional looking results each time you use it on your carpets or upholstery, and you get stiff brushes that rotate and dig deep into your carpet for a next-level clean that removes everything from pet hair and stains to mud, grass, and spills.
The scrubber comes with a pro-enzymatic formula that helps to break down any bacteria in the stain that could cause odors, and this helps to prevent your animal from going to the bathroom in the same area. The vacuum motor is enhanced, and this means that it sucks up the majority of the water for an almost dry carpet.
The 3.9-gallon tank is larger than most scrubbers, and this allows you to take on larger areas without having to refill and empty the dirty water regularly. It also comes with a handheld tool that is gentle enough to use on your drapes and upholstery or stairs without worrying about damaging the fabric.
Pet parents who bought Rug Doctor's scrubber liked that it had a larger tank with several cleaning modes that allowed them to customize how they cleaned. They didn't like that this is a much larger scrubber that is very heavy and difficult to haul up and downstairs.
Things We Liked
Features a few cleaning modes
Can leave you with mostly dry carpeting
Has a larger tank
Things We Didn't Like
Has a heavier build
Doesn't work well in long carpeting
Made out of plastic
Our pick for the best carpet cleaner to use on pet stains is the Hoover Power Scrub Deluxe Carpet Washer because it comes with the SpinScrub Brush System that helps to clean down multiple layers of your carpet to get rid of pet stains that set in. Coming it at just under 20 pounds, this scrubber was lightweight enough for us to easily move around as we needed.
We also chose it because it comes with an upholstery tool that helps you tackle stains on your furniture or drapes and stairs without an issue. Finally, this scrubber dried out the carpets when you finished with it, and this is important for not tracking more debris in.