Best Dental Treats for Dogs: 6 Picks to Give Your Dog a Healthy Smile

By Ashley Turner     Last Updated January 25, 2022

We independently research and recommend the best products; Learn more here. We may receive commissions on purchases made from our product recommendations.
For some dog parents, trying to brush their dog's teeth can be a nightmare because the dog hates it. However, you must take steps to protect your dog's oral health and keep their teeth clean throughout their lives.
We understand how overwhelming it can be to try to compare hundreds of products, and this is why we picked out the six best dental treats for dogs and reviewed them for you. Additionally, our buyer's guide will highlight everything important you need to know about these dental treats below.
Our Top Picks for the Best Dog Dental Treats
5 Things to Keep In Mind When Shopping for Dental Treats for Dogs
Plaque and tartar buildup on your dog's teeth can open the door for a variety of health problems like inflamed gums, missing teeth, decay, infections, and more. It's important that you take steps to minimize this buildup, and dental treats are an option if your dog hates getting their teeth brushed.
Shape
In order to reach all of the surface areas of your dog's teeth, you want to pay close attention to the shape of the dental treat. Something with pointed edges is going to be able to get much closer to your dog's gum line and scrape away any buildup than a flat one.
Edible or Non-Edible
You can buy edible or non-edible dental chews for your dog, and both types tend to work well. Pick out whichever one you think your dog would be happier to chew on, or you can try both and see which one your dog prefers.
Flavor
If your dog has a flavor preference, check and see if you can find dental chews in that specific flavor. Chicken is a popular flavor profile for dental chews, but so is mint. If your dog has allergies to chicken or poultry, check for other options.
Size
You can buy these dental chews in a huge range of sizes, and you want to find the one that fits your dog's mouth the best. If it's too small, your dog will be able to chew through it or potentially swallow it and choke.
Durability
Ideally, you'll get a slightly harder dog chew to maximize the cleaning power. The longer your dog chews on it, the cleaner their teeth will be. If you have an aggressive chewer, look at the chew rating on several different dental bones before you pick one.
Our Top Six Picks for the Best Dental Treats for Dogs
1. Bones & Chews All-Natural Dental Chew Sticks
These healthy chews come packed with a natural chicken flavor to entice your dog to eat, and your dog will enjoy a textured chew stick that helps to remove any tartar or plaque off of your dog's teeth while they chew it.
There are no artificial flavoring or colors in this product to make it healthier for your dog to eat, and this natural seasoning with ingredients are easier to digest. The treats come from manufacturers in the United States, and they use only trusted ingredients from verified sources.
The sticks are large enough for medium and bigger breeds, or you can easily break them in half to make them more manageable for smaller dogs to pick up. The unique six-point shape ensures the treat can get right up against your dog's gums to clean them, and the treat will reach all of those small nooks.
People who purchased this treat for their dog liked that it came with natural ingredients with no added sugars to make it more digestible. They didn't like that the bones tended to dry out once you opened the package.
Things We Liked
Uses natural seasonings and ingredients
Has a unique shape
Can break it for smaller dogs
Things We Didn't Like
Might dry out too quickly
May not have enough flavoring
Can crumble easily
2. Greenies Regular Dental Dog Treats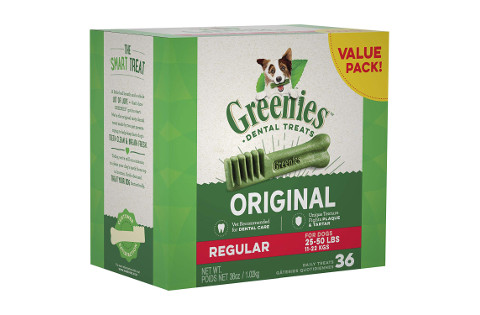 These Greenies dental treats come in eight different sizes and packaging options with teenie, petite, regular, and large sizes available to suit all breed sizes. There are vitamins and minerals in each Greenie to give your dog a balanced treat, and the treats will help to freshen your dog's breath.
The unique toothbrush shape has ridges that help scrape the plaque and tartar off your dog's teeth to improve their oral health, and the all-natural ingredients will break down for easy digestion. Your dog will get a light minty flavor when they chew on these dental treats, and this can help cover the smell of dog breath.
Veterinarians recommend this treat to help fight gum disease, plaque, tartar, and tooth decay. In turn, this can improve your pet's overall health as their dental health gets better.
Dog parents who bought these dental treats liked that there were several sizes available to suit a variety of dog breeds. Dog parents weren't happy that they weren't strong enough for more advanced cases of tartar and plaque buildup.
Things We Liked
Available in four different sizes for different breeds
Has a minty flavor and scent to entice your dog
Available in several different amounts
Things We Didn't Like
Breaks down in a few minutes
May not work on more severe cases of tartar or plaque
Can get slimy
3. Pedigree Dentastix Large Original Dog Treats
These treats by Pedigree have a textured outer layer with a textured design that goes a long way in scrubbing tartar and plaque off your dog's teeth. You can choose from four different sizes in each order to suit your dog's needs.
The x-shape scrubs deep between your dog's teeth up to their gums to ensure there are no pockets of buildup left behind, and the treat comes with a pleasant smell to help freshen your dog's breath. The treats come packed full of flavor to entice your dog.
Each ingredient is carefully picked and mixed to create a safe and digestible formula that is easy for your dog's digestive system to break down. There are multiple sizes available, and this makes it easy to match the size to your dog's mouth size to make it easier for them to chew.
People who purchased this item for their dog liked that the treat came with a patented design with slightly longer areas that allow the treat to reach their dog's gums. They did say that they're very soft chews that their dog could swallow in a few minutes.
Things We Liked
Comes in several sizes
Able to clean down to the gums
Helps to freshen breath
Things We Didn't Like
Has a very soft texture
May not work on dogs with a lot of plaque
Can crumble or break
4. OraVet Dental Hygiene Chews for Dogs
There are two box sizes and four different classifications for different dog weight classes that help you tailor your order to your dog. This treat uses delmopinol to loosen and dislodge any plaque while the treat's shape works to scrap away tartar.
Delmopinol also forms a protective barrier on your dog's teeth and gums to prevent bacteria growth, calculus growth, and plaque formation. Additionally, this treat will also help to freshen your dog's breath as they chew by healing any inflammation or buildup.
Veterinarians recommend these chews because they have a host of highly digestible ingredients that won't cause digestive upset or discomfort when your dog has one. You can give your dog a treat a day to help them have the most cleaning power, and the ingredients come sourced from trusted farms and manufacturers.
People who purchased these chews for their dog liked that it had delmopinol to help break down plaque, reduce tartar buildup, and freshen their dog's breath. Dog parents did say that this chew isn't strong enough for aggressive chewers, and they could break it do way too fast.
Things We Liked
Contains a healthy amount of delmopinol
Uses highly digestible ingredients
Will clean your dog's teeth to the gum line
Things We Didn't Like
Not strong enough for aggressive chewing
May be too bland for pickier dogs
May cause soft or discolored stools
5. DentaLife Daily Oral Care Small/Medium Dental Dog Treat
These dental sticks come with a very porous and chewy texture that increases the time the chew has in contact with your dog's teeth. These chews are available in five different sized packages, and you can break them into smaller pieces.
The treat comes with unique shallow ridges that help to scrape any debris, tartar, or plaque off of your dog's teeth when they use it, and the porous material ensures they clean your dog's entire tooth. There are no artificial colors or flavors with this dog treat.
Your dog will enjoy natural ingredients with a mix of vitamins and minerals that makes it easy for your dog's system to break it down. Made in the United States to strict quality control standards, each ingredient goes through rigorous quality control standards.
Dog parents thought the porous texture on these treats was excellent for helping get rid of as much plaque and tartar as possible. The dog parents did say that the mint scent was very strong, and the smell could be off-putting for some dogs.
Things We Liked
Has a unique porous design
No artificial colors, flavors, or preservatives
Made in the United States to strict standards
Things We Didn't Like
May have an overpowering mint scent
Can be difficult to break
Not suitable for tiny dog breeds
6. Get Naked Puppy Health Grain-Free Dental Chew Sticks
These simple dental chews come with just 27 calories per stick, and this allows you to give one to your dog every day without worrying about weight gain. These are all-natural dental sticks that have a deep four-pointed design to get between your dog's teeth for a thorough clean.
Your dog will get a safe dose of DHA, calcium, and fatty acids each time they have one of these dental chews, and these things support healthy coat, skin, and brain development. This product is best for teething puppies to help soothe sore gums.
This stick will reduce the plaque and tartar buildup on your puppy's teeth every time they chew it, and this can head off dental problems as your puppy ages. The formula contains a host of natural and safe ingredients that are easy to digest.
People who bought this item for their puppy were happy that it contained DHA and fatty acids to help support their puppy's healthy growth and development. Puppy parents did say that these chews will not last long before breaking down with moderate chewing.
Things We Liked
Has all-natural ingredients
Contains DHA to support brain development
Only contains 27 calories per stick
Things We Didn't Like
Might have a greasy texture
Can be hard to break
Gets soggy quick
Our top pick for the best dental treat for dogs is the Bones & Chews All-Natural Dental Chew Sticks because they use all-natural ingredients with a tempting chicken flavor. There are no sugars, artificial flavors, or artificial preservatives in the formula.
We liked the unique design that helped clean our dog's teeth from the tip to the gum line. Finally, we liked that this treat seemed to last longer than others on the list, and this is more effective for tartar and plaque removal.