Best Air Purifiers for Pets to Get Rid of Odor, Pet Dander, Dog Hair, Allergies, and More

By Ashley Turner     Last Updated January 25, 2022

We independently research and recommend the best products; Learn more here. We may receive commissions on purchases made from our product recommendations.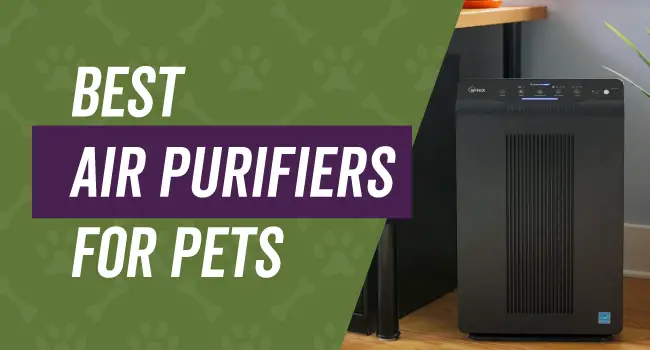 Since there are dozens of air purifiers available, we're going to give you a comprehensive guide that shows you exactly why you want an air purifier and what it can do for your home. We've also rounded up and reviewed our top five picks because we want you to compare them and choose the one that works best for your situation.
Our Top 5 Picks for the Best Pet Air Purifier
Five Types of Air Purifiers
Now that you know how air purifiers work, well go over the five different types of air purifiers. This list will give you a good starting point to start searching for the correct air purifier to suit your needs. They include:
Activated Carbon - An activated carbon air purifier comes with an activated carbon filter installed. This filter is specially designed to help rid your home of odors by trapping the things that cause unpleasant smells like smoke or mold.
HEPA - One of the most popular types of air purifiers available are ones with True HEPA filters. True HEPA air purifiers can trap and lock 99.97-percent of any contaminants that come through because it has an extremely dense design.
Negative Ion - Negative Ion air purifiers use chemical injectors to rid your home's air of unwanted pollutants. They release negative ions that attach to any pollutants and weight them down to drag them out of the air.
Ozone - Ozone air purifiers release minuscule amounts of ozone into the air to change the pollutant's chemical makeup. However, the ozone it releases can actually contribute to your home's poor indoor air quality.
UV - The final type is air purifier comes with a UV light that destroys bacteria and germs as they pass through the light. They don't trap many particles or allergens though because they don't have a filtration system.
What to Consider When Buying an Air Purifier for Pets
There are several important things that you want to keep in mind when you're buying an air purifier. Keeping these things in mind will help to ensure that you get a quality air purifier that suits your needs.
Automatic Sensors
Air purifiers are starting to come with more and more technological features that make them more convenient for people to use. Newer models come with air quality sensors built right into the purifier that monitors your indoor air quality in real time.
As your air quality changes, the air purifier's sensors tell the air purifier this so it can adjust the speed it's running without any input from you. This is great if you plan to put your air purifier in an area that you don't frequent a lot or if you leave your purifier running while you're out and about.
Coverage Area
The first thing you have to understand is that air purifiers typically work best in the room where you have them running. Each air purifier will tell you the maximum amount of coverage area your specific device will cover without leaving any gaps in square feet.
You can get the square feet of your room by finding the length and width of the room and multiplying them together. The square footage of a 10 foot wide by 12 foot long room would be 120 square feet, and this calculator can help you find your room's square footage.
Ease of Use
Are you technologically savvy or do you need help when it comes to setting up your air purifier and maintaining it? You want to get an air purifier that is easy for you to switch on, turn off, adjust the settings, and set the timer if it comes with one.
Also, you want to get an air purifier that comes with a clean user face that allows you to adjust it quickly and easily. LED screens and other additional options like a light to remind you that you have to clean your filter are also other options.
Maintenance
How much time do you have to devote to cleaning your air purifier and how difficult is it to maintain? Some air purifies require you to take them apart and clean them while other air purifiers require you to switch out the filter every six to eight months.
Additionally, ionizers and UV air purifiers will most likely require more routine maintenance to keep them running in peak performance because there are no filters. Are extra filters expensive and how difficult is it to get them? These are all things that you want to keep in mind.
Noise
Since you run these air purifiers 24 hours a day, you want one that is very quiet. You want to look for quiet operation, and it's important to note that air purifiers with fans can run a little louder on their more powerful settings.
Unfortunately, you won't really be able to test your particular device's noise levels unless you buy it in person. However, you can usually read reviews to get a good idea on how well something runs, and certain air purifiers come with quiet run technology to make them virtually silent on every setting.
Power Consumption
You want an air purifier that is very energy efficient because most people leave them run 24 hours a day. The last thing you want is to run an air purifier and have it drive your energy bill up.
It's important that you look for an air purifier that comes with an energy star rating. This energy star rating will help to reassure you that your air purifier is between 10 to 20-percent more energy efficient than any non-rated model, and this can save you money all year round.
Our Top 5 Picks for the Best Air Purifier for Pets
1. GermGuardian AC4825 22" 3-in-1 Full Room Air Purifier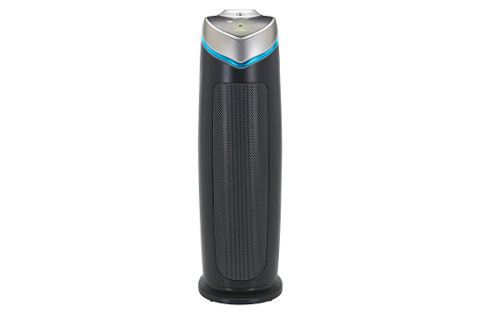 The GermGuardian air purifier is great for anyone who is suffering from allergies or pet dander because it comes equipped with a HEPA filtration system that can trap up to 99.97-percent of allergens. It also catches particles as little as 0.3 microns like dust, pet dander, pollen, and mold spores.
You'll also enjoy the benefits of a charcoal filtration system that is designed to trap and lock in unpleasant odors like wet dog, smoke, mold, and mildew. It has an optional built-in UVC light that is designed to help eliminate microorganisms like bacteria and germs as they pass through it as well.
This purifier is capable of quickly, easily, and continuously cleaning and disinfecting the air in a room up to 167 square feet for complete coverage. You'll get a filter replacement light that warns you when it's time to swap out your old filters for new ones to keep your purifier running like new.
Dog owners who bought the GermGuardian were impressed that it came with three different options including HEPA filtration, charcoal filtration, and UV-C light. Dog owners weren't happy that the filters could be slightly challenging to replace after six to eight months.
Things We Liked
Comes as a three-in-one purifier
Features charcoal and HEPA filters
Covers a large room without problems
Things We Didn't Like
Slightly bulky and oblong
Can be difficult to switch the filters
Have to configure the UV-C light
2. Hamilton Beach TrueAir Air Purifier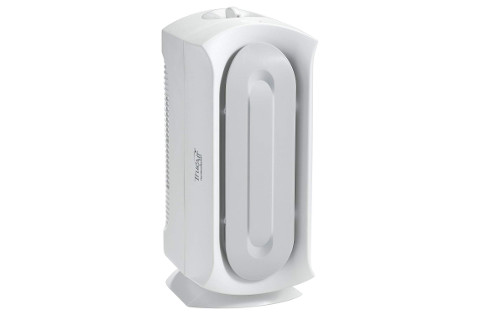 The Hamilton Beach TrueAir Air Purifier comes with a permanent HEPA filter that you vacuum out regularly to keep it running in peak performance. The HEPA filter catches up to 99.97-percent of pet dander and germs that pass through it because of the denser design.
This air purifier also helps you combat the common odor issues that can come with having pets because it has a carbon filter that traps the particles that cause unpleasant odors. You'll be able to use this air purifier in smaller rooms and larger rooms up to 140 square feet without worrying about coverage gaps.
You'll enjoy a smaller and lighter design with this air purifier that makes it very easy to reposition or move it from room to room as your needs change. The large dial on the top makes it easy to set and control it as well.
Dog parents who bought this air purifier like that it comes with both a HEPA and charcoal filter to help clean their home's air of both odors and pet dander. They didn't like that the filter tended to clog quickly and have to be routinely vacuumed out to ensure that it caught everything.
Things We Liked
Very small and compact size
Easy to set up and use
Covered up to 140 square feet
Things We Didn't Like
Have to routinely vacuum out the filter
May take a few days to notice a difference
May be louder on the highest setting
3. LEVOIT LV-H132 Air Purifier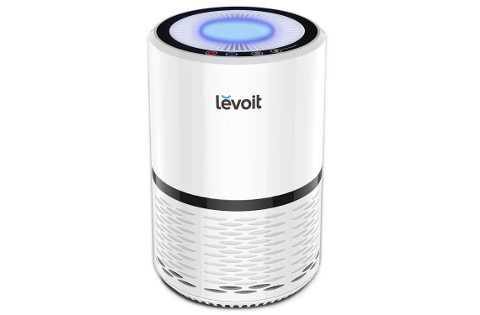 The LEVOIT LV-H132 air purifier comes equipped with a three stage filtration system including a pre-filter, a HEPA filter, and an activated carbon filters all packed into one convenient setup. This means that this device is capable of catching and locking mold, pollen, pet dander, mold, and more in sizes ranging from 0.3 microns up to 2.5 PM.
You're able to choose between a low, medium, and high setting that allows you to quickly and easily adjust how it's running to make it fit the room you want it to clean. This purifier emits a soft light that you can have brighter or lower with the push of a button.
This air purifier comes backed by a one-year warranty that you can extend up to a lifetime warranty for your convenience. You do want to switch out the filter every six months to keep the purifier running and cleaning your home's air to the best of its abilities.
Pet parents loved that this air purifier filtered out both tiny and large particles each time they had it on. Pet parents didn't like that this air purifier seemed to take a few weeks to clean their home's air adequately.
Things We Liked
Features a very sleek and compact design
Filters out large and small particles
Easy to switch between settings
Things We Didn't Like
Can rattle on the higher settings
Night light feature may stop working or flicker
Can take weeks to notice a difference
4. Winix 5500-2 Air Purifier
The Winix air purifier comes with a PlasmaWave feature built in that can break down a variety of pollutants including chemical vapors, odor, and allergens without ozone emissions. You'll also get a removable activated carbon filter to help with odors combined with a True HEPA filter to catch 99.97-percent of allergens.
You'll enjoy smart sensors built into this air purifier that help it to automatically adjust which setting it's on depending on the immediate air quality. You can run this air purifier silently at night with a sleep mode as well.
This sleek and compact air purifier is capable of cleaning small, medium, and large rooms up to 360 square feet without missing areas or having coverage gaps. The carbon filter is easy to remove, wash, and put it back in without having to worry about buying another one.
Dog parents really liked that this air purifier came with a PlasmaWave to help break down things like chemical vapors and allergens. Dog parents did mention that the Wimix air purifier's HEPA filter replacement cost was just under half of what you pay for the entire device.
Things We Liked
PlasmaWave can get rid of chemical vapor
Can cover up to 360 square feet
Has built-in air quality sensors
Things We Didn't Like
HEPA filtration system is slightly more expensive
Highest setting may be too loud
May have trouble deciding bad and good air quality
Our Top Air Purifier for Pets Pick
Our choice for the best air purifier for dogs and pets is the GermGuardian AC4825 22" 3-in-1 Full Room Air Purifier because it is capable of trapping and locking pet dander and allergens down to 0.3 microns in size. We also liked that it comes with an activated carbon filter and an optional UV-C light built in.
It's great for use in smaller rooms as well as larger rooms up to 167 square feet. Finally, we also liked that it comes equipped with an indicator light that lets us know when it's time to change the HEPA filter to keep the purifier running at peak performance.